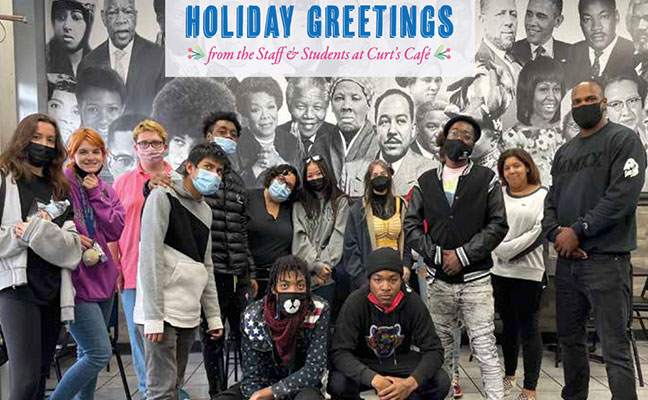 Holiday greetings from the staff and students at Curt's
As we continue to navigate through the ongoing challenges of the pandemic, we were able to reopen both cafes in June.  Through it all, 2021 was a successful year for Curt's Cafe. Over 50 new students participated in our program and many graduates returned – some just to check in and others needing additional support, which we provided. Our popular Dinner & Dialogue program allowed us to engage in meaningful conversations while the cafes were closed and we are thrilled that this program continues to thrive today.

Our catering orders have increased and we have built and maintained collaborative partnerships in both Lake and Cook counties. 
We are excited to be moving into our tenth year with a platform for growth and sustainability. We couldn't have done any of it without you, our faithful supporters. As we head into the home stretch of the Holiday season, we are looking to finish our fundraising year strong! We are currently in the middle of our annual appeal, and many of you have already received letters from us. Our Appeal goal is $175,000 and we are excited about the progress we have made towards this goal so far.  We still need help so we can continue our mission of improving outcomes for young adults living in at-risk situations. We hope you will consider supporting us.
Gratefully yours, –
The Staff at Curt's Café
Happy Holidays from

Curt

's Café!