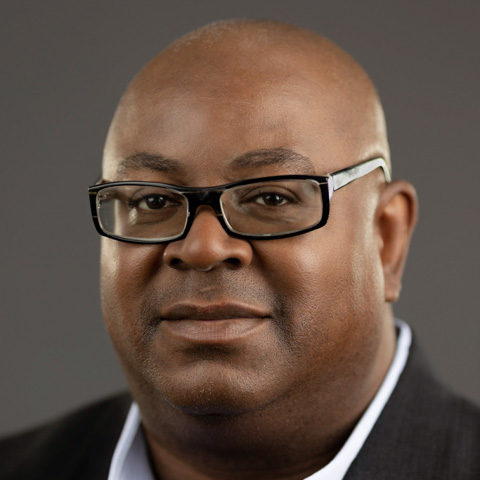 Curt's Café selects Malik Kemokai as Executive Director
Curt's Café proudly announces Malik Kemokai as its next Executive Director following a comprehensive, national search undertaken with the assistance of KEES.
Malik has a deep-seated passion for, and history of, changing the individual lives of young adults in at-risk situations. Effective August 1, 2022, he will engage both community members and students to drive the organization's vision forward through its next phase of growth.
Malik Kemokai emigrated to the United States in 1976 at the age of seven. Years later, after receiving a degree in food and beverage management, he ended up in Evanston and managed several well-known restaurants, including The Stained Glass Bistro, The Cellar, and a few Peet's Coffee and Tea locations. While working, he returned to school and with the assistance of mentors, pivoted to a career focused on workforce development in the nonprofit sector.
Most recently, Malik served as the Director of Workforce Development Strategies and Operations at the Greater Chicago Food Depository. There, Malik led the Chicago's Community Kitchens project, a 14-week job training program for unemployed and underemployed adults. During his tenure, Malik transformed the program into a comprehensive workforce development curriculum with wraparound services and Individualized Education Plans to ensure success after leaving the program. Previously, Malik served in both fundraising and program leadership roles at Howard Area Community Center in Chicago, an organization that empowers individuals, enabling their independence and offering enhanced opportunities.
"The mission of Curt's Café resonates deeply with me because it aligns with the mission and vision I have worked to advance for the last decade." said Malik. "I have a core personal commitment to developing programs and supports which uplift and release the true potential of youth participants. Curt's Café has an enviable track record of doing so much, so successfully, for so many in that regard.  I look forward to bringing my experience and holistic approach to help continue that success and lead Curt's Café into its next phase of growth, ensuring youth and young adults have every possible chance at bright futures.  And, as an added bonus, I know that my young son will be thrilled with my joining Curt's Café; we have enjoyed many weekend meals at Curt's and it is one of his favorite places."
As a Certified Nonprofit Professional, Malik holds a Master of Nonprofit Administration degree from North Park University, as well as separate Masters Certificates in Nonprofit Management, Fundraising Management, and Organizational Development. He is currently also pursuing a Certified Workforce Development Professional credential.
Curt's Café Board Members leading the search efforts included Board President Rick Marsh and Rich Amend, Dr. Audrey French, David Graham, Tanya Jenkins, and Dana Pearl. Malik becomes Curt's Café's second Executive Director following the start-up and success of founder Susan Garcia Trieschmann.
"We were seeking a mission focused, passionate, creative, and entrepreneurial Executive Director to lead us following the exemplary leadership of our organization's founder. We are thrilled to have selected Malik," said Curt's Café Board President Rick Marsh. "Malik has a passion for truly making a positive difference in people's lives and his experience working within the governing principles of trauma informed care (TIC), Justice, Equity, Diversity & Inclusion (JEDI), and restorative practices, make him a great fit to lead Curt's Café into this next stage of growth. We are thankful for KEES and their expertise during this search."
Curt's Café Board of Directors retained KEES in 2022, and a comprehensive, national search was launched, attracting many uniquely qualified and diverse candidates. The Board of Directors ultimately selected Malik from a strong group of finalists.
"From our very first interactions about this role, we knew his experience and impressive skillset stood out. Curt's Café is all about relationships and collaboration, and Malik has built a successful career on these principles," said Heather Eddy, KEES President and CEO. "We congratulate Malik, the Board, and the entire Curt's Café team and are excited to see what is ahead for the young men and women served."
KEES (formerly Alford Executive Search) is a non-profit executive search firm that builds diverse teams with dynamic leaders in the non-profit and public sectors. A woman owned and operated firm, KEES offers a full array of non-profit consulting services, including executive search, leadership development, interim staffing, and HR support. For more information, please visit www.kees2success.com.
Curt's Café, established in 2012 operates through two cafés (Evanston and Highland Park, Illinois), Curt's is a workforce education program, providing life skills training, extensive wraparound social services, and job training and placement to young men and women, ages 15 to 24, from Evanston, Lake County, and the Greater Chicagoland. Many students are housing or food insecure, single parents, and/or have had contact with the judicial system, and are often referred from local high schools, social service agencies, or other nonprofits.
# # #
KEES MEDIA CONTACT:
Jamie Sheffler, [email protected]
CURT'S CAFÉ MEDIA CONTACT:
Tami Manton, [email protected]