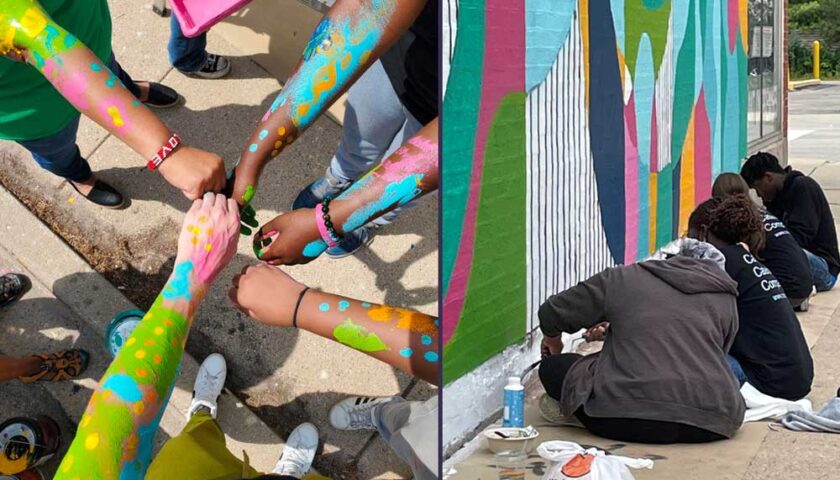 Curt's Café New Mural Unveiling Set for Saturday, August 13
Community members are invited to the unveiling of Curt's Café's new mural on Saturday, August 13, at 10:30 a.m. The event will take place at the Evanston cafe, 2922 Central Street, on the east side of the building.
Curt's students assisted local artist Sholo Bevery, who painted the mural. Sholo previously created a powerful piece in our Highland Park café to honor our students and support the organization's mission. Curt's Cafe is a not for profit dedicated to improving the lives of young adults living in at risk situations.
"I am honored to have my artwork in this space for students to dream and feel hopeful. "Art seriously does save lives," Sholo said.
"I was inspired by her words, which were poetic and filled with color. Sholo was passionate about getting the voices of our students onto a canvas so they could be heard," said Curt's Founder, Susan Garcia Trieschmann.
In May, several Curt's students began workshopping mural ideas with Sholo. Based on their inspired conversations, Sholo created a design that expressed their interest in surrealism and showcased the feelings of dreaming and journeying. Before the mural was painted, several Curt's students put their handprints and words of inspiration on the wall to ensure their dreams and inspired thoughts will remain embedded in the design.
"This entire process has been truly inspiring," said Tami Manton, Curt's Director of Development. "Our students are loving the experience. They feel heard and are truly vested in the process. Everyone tells us how seeing the mural simply makes them happy. The reaction from community members who have been watching the progress has been amazing."
Curt's Cafe is grateful to our lead partners from Art Encounter. The mural project was funded through the City of Evanston and the Evanston Arts Council's Community Resiliency grant, which mobilize artists and cultural and social service organizations to improve the quality of life and amplify voices in underserved communities.
Curt's mission is to improve outcomes for young adults living in at risk situation through work and life skills training.
To set up an interview, visit one of our cafes, or for more information, contact Tami Manton at tami@curtscafe.org.