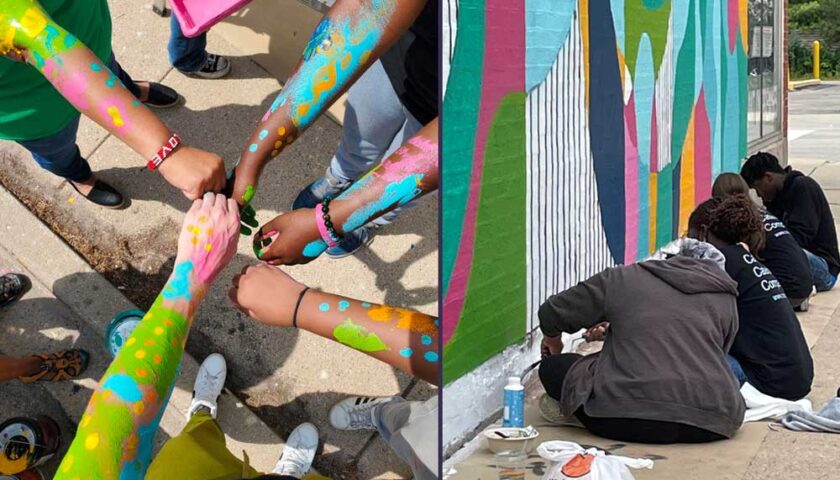 Curt's Café New Mural Unveiling Set for Saturday, August 13
Community members are invited to the unveiling of Curt's Café's new mural on Saturday, August 13, at 10:30 a.m. The event will take place at the Evanston Cafe, 2922 Central Street, on the east side of the building.
In May, several Curt's students began workshopping mural ideas with Sholo Beverly, a local artist who previously created a powerful piece in our Highland Park café to honor our students and support the organization's mission. Based on these inspired conversations, Sholo created a mural design that utilizes surrealism to capture our students' feelings of dreaming and journeying.
"I really liked working with Sholo. She was fun and relatable. Sholo is the kind of leader I want to be. I felt like I was part of something bigger", said Curt's student, Marsei Reid.
Before the mural was painted, several Curt's students put their handprints and words of inspiration on the wall to ensure their dreams and inspired thoughts remain embedded in the design. Students then assisted local artist Sholo in painting the mural. "I am honored to have my artwork in this space for students to dream and feel hopeful. "Art seriously does save lives," Sholo said.
"This entire process has been inspiring," said Rick Marsh, President of the Board. "Our students are loving the experience. They feel heard and are truly vested in the process. Community members who have stopped by to watch this work in progress unfold have commented on the vibrant colors of the design and how it makes them happy to see it," Marsh continued.
Curt's Cafe is grateful to our lead partners from Art Encounter. The mural project was funded through the City of Evanston and the Evanston Arts Council's Community Resiliency grant, which pairs social service organizations and arts organizations to work together on projects that benefit the community that the social service organization serves.
Curt's mission is to improve outcomes for young adults living in at risk situations through work and life skills training.
To set up an interview, visit one of our cafes, or for more information, contact Tami Manton at [email protected].