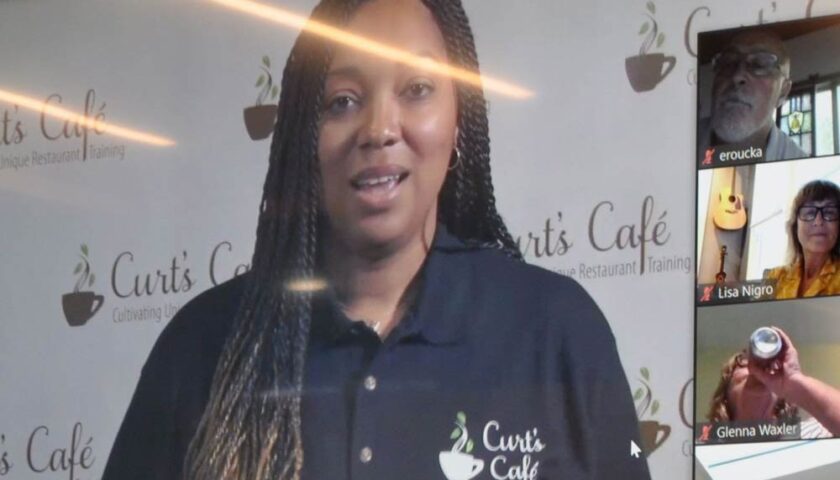 Curt's Café Wins Impact 100 Chicago Transformative Grant
On June 8th, Curt's Café was named the 2021 Impact 100 Chicago Grant recipient. Curt's Café provides a comprehensive program consisting of workforce training, life skills, intellectual learning, and continuous emotional support for young adults living in at risk situations in Cook and Lake Counties.
Curt's students and graduates thank Impact 100 Chicago for choosing Curt's from all of the other amazing applicants. This grant will fund the development and implementation of a new curriculum to include Curt's current entrepreneurial training and mentoring. The expanded training will include new modules in accounting, nonprofit management, and communications/marketing that will directly address employers' needs as well as the ongoing needs of students and graduates. This new business curriculum and versatile skills development opportunities will increase students' capacity to reach self-sufficiency; through career advancement and helping them access new industries.
"Having mentored many of Curt's students, I have seen firsthand the impact our program can make. The pandemic had a disproportionate effect on our young people. This grant will help our students advance and strengthen their resilience, " says Rick Marsh, President, of Curt's Board of Directors.

Additionally, funds will be used to purchase a van to enhance community outreach, catering opportunities and experiential trips for our students. The van will expand the number of educational trips offered, allowing Curt's to take students and graduates to more unique businesses and industries to explore beyond our borders, as well as to out of state college tours.
We'd like to thank our amazing team that helped secure this grant:
Our grant writer, Gayle Nelson; Executive Director, Susan Trieschmann; Interim Development Director, Tami Manton; Board President, Rick Marsh; Social Service Provider, Angelina Alfaro; Curt's Graduate and Kitchen Staff Lead, Alexis Marques; and  Videographer, William Jenkins.
The  F I N A L  T H R E E …
A very special shout out and heartfelt thank you to former Board Member, Enjoli Daley for taking us over the finish line by sharing the Curt's story, as well as her personal involvement with Curt's, for our final Impact 100 Chicago video submission.
Here is Enjoli's Impact Story: https://youtu.be/JCz17MKjSCQ
Impact 100 Chicago is a 501(c)(3) all volunteer, women's philanthropic nonprofit that awards transformational grants to local nonprofits while empowering women to improve lives through philanthropy. Since its inception in 2010, Impact 100 Chicago has awarded more than $3 million in high impact grants that have a transformative effect on the receiving organizations and those they serve.
Women interested in learning more about Impact 100 Chicago should visit: impact100chicago.org