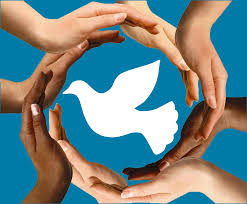 A Note from our Founder
"May we hold every person, in Chicago or Evanston, in our hearts until we find a way to hold them in our arms and keep them safe."

In six years I have never written a "Letter from the Founder" or even been compelled to. But I felt compelled to write today after receiving a text from my daughter.
I was on vacation for a week, enjoying a road trip with my big sis chatting and daydreaming and sitting in coffee shops from here to Rhode Island.   It was a lovely week and I became more relaxed every mile-post we passed.  But I returned home yesterday with no "pep to my step" (as our Board President says) and when I came into work this morning I just couldn't figure out why.  As you all know I love my work, I love our team, I love our community and I love love love our Students.  But Anna Mae's text (she lives in Boston) made me break down and cry and I was unable to figure out why.  "Mom, I'm just seeing the news about all the violence in Chicago – are all your students doing okay?  I'm thinking of all of you."
But I did figure it out. After reading about all the people affected by the violence in Chicago this weekend I, like many of us, said "that's so sad", and then I turned the page.  But when my daughter wrote to me this morning I realized that I had actually done one more thing – I had not been able to deal with it all emotionally because it is so close to our Curt's Home and the Students and I put it somewhere to deal with later.  The text made me move the "later" to "now" and I just can't ignore it any longer.  I know that the victims – both those shot, killed, or witnesses – are Children, Mothers and Fathers.  I know that those victims have futures that have been taken away far too early and I know that they had so much to offer to every one of us.  I know that every victim is part of my heart and soul and I know I have not done enough.
Close to home, the victims are the families and the friends of the Students we serve.  Our Students are as traumatized as the people in Chicago and they, like me, probably just turn the page because it's so emotionally hard to deal with.  But I just couldn't any longer six years ago when I opened Curt's Café and I can't now.  I can no longer turn the page to the trauma our children are experiencing in Chicago and the losses their Mothers and Fathers feel – or the fear they feel thinking it will be them or their child next.  I can no longer pretend that it's a Chicago problem because I know it is my problem too.  Young men and women, just like the ones I serve every day at our Cafes, are being gunned down just 13 miles from my front door.  One of our students once said "I'm just going to another candle vigil tonight" like I say" I'm just going to another movie tonight".  This should never be normal and "just another".
I do not have an answer right now but I do have a heart and a brain and I will reengage them both to look for a solution.  If you have ideas or solutions please let me know at susan@curtscafe.org.  For now I will continue to pray for peace and for solutions and I will pray for the families – all the families – affected.  I hope you will send your good strong positive energy to those affected and to those trying to find a peaceful answer to the violence. May we hold every person, in Chicago or Evanston, in our hearts until we find a way to hold them in our arms and keep them safe.
Imagining Peace,
Susan Garcia Trieschmann