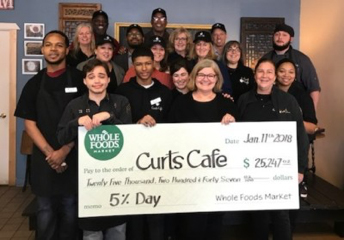 Whole Foods Community Support Day raised an amazing $25,575
Thanks to Whole Foods Market's generosity and the fierce loyalty of all of YOU who came out to shop!
Our Community Support Day raised an amazing $25,575 – enough to provide meals at both cafes for all our students for the full year! We were so lucky to be selected by Whole  Foods Market  as part of their Food as an Economic Development Driver initiative for a 5% day on January 11th  as they invest in organizations, projects and programs that leverage food to drive economic growth and prosperity through employment/job or skills training, business incubators, agriculture and manufacturing, public policy and other efforts. Curt's Cafe was the only organization considered for our North Suburban metropolitan area because our program so perfectly fit the category!  To date, Whole Foods Market has donated more than $13 million to local communities in the Midwest region from these 5% days alone.
Thank you to Whole Foods Market and to all of you who provide ongoing support for the ongoing needs of our youth!